Coffee Drink Mix with Psyllium Fiber Husk and Garcinia Cambogia
GWT. 21 grams x 7 sashet 147g
Ingredients
Green Coffee Bean
Garcinia Cambogia
Psyllium Fiber Husk
L-Carnitine
Green Tea
Collagen
Coffee
Non-Fat Cream
Stevia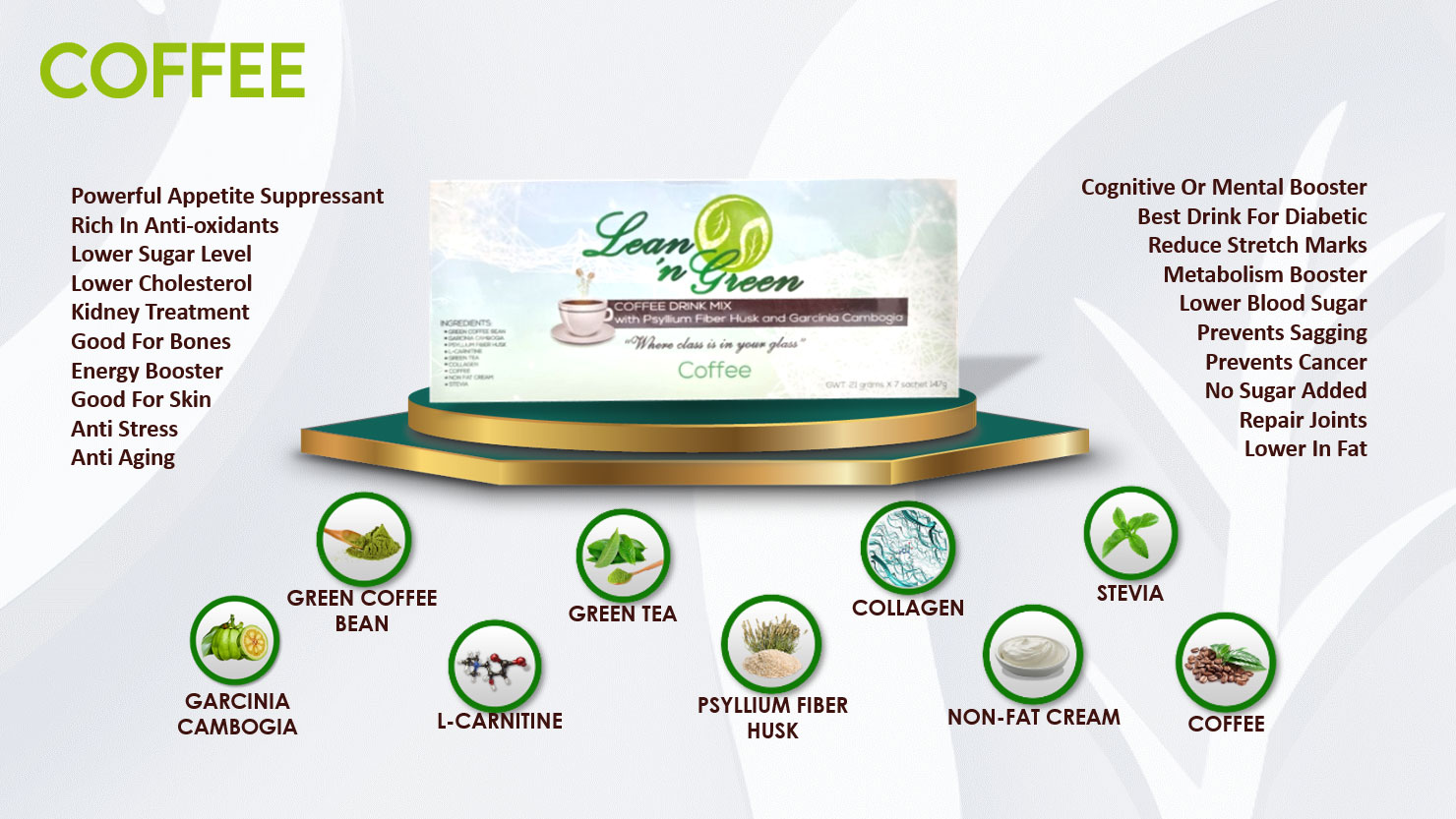 LNG coffee is made of Garcinia cambogia, green coffee bean extract, green tea extract and psyllium fiber husk to aid weight loss. Garcinia cambogia is a fruit found in India and South East Asia that contains Hydroxycitric acid (HCA), a compound that may promote weight loss due to increased metabolism and appetite control. Green coffee beans are coffee beans that didn't undergo curing. Curing is a process in which the flavors are enhanced though the nutritional value of the fruit will decrease due to loss of nutrients. This skipped process in green coffee beans made it a healthier choice of coffee, it may have an effect in weight loss. Green tea also contains caffeine that boosts metabolism. Green tea also has catechins and antioxidants, substances that may help burn fats. With the help of L-carnitine and psyllium husk fiber due to their appetite suppression, this coffee may help in weight loss and promote fitness.
Ingredients
Green coffee bean extract
powerful antioxidant and anti-inflammatory
help reduce of diabetes and heart disease.
help lower cholesterol levels by that lower risk of heart attack and stroke.
Garcinia cambogia
contains Hydroxy citric acid (HCA) that blocks an enzyme called citrate lyase, which your body uses to make fat.
raises levels of Serotonin "appetite suppressant", makes you feel less hungry.
lowering triglycerides, LDL "bad" cholesterol and raising HDL "good" cholesterol.
Psyllium Fiber husk
makes bowel movements easier and more regular without increasing flatulence
treat people with irritable bowel syndrome (IBS) and Crohn's disease.
prebiotic
help people maintain a healthy glycemic balance.
L- Carnitine
helps burn fat and lose weight improving blood sugar levels
can increase sperm count and sperm movement in males with fertility problems.
For women have Polycystic ovary syndrome (PCOS) can increase ovulation and the chance of getting pregnant
Green Tea
may help reduce body fat, especially in the abdominal area.
keeps you alert and help boost brain function and possibly lowering the risk of dementia.
protect your body against cancer invasion.
help regulate glucose
Collagen
can improve skin elasticity (i.e., wrinkles and roughness), hair, skin and nails.
support joint mobility and a healthy inflammatory response.
benefits the body by turning it into a fat-burning machine, even when you're at rest.
Coffee
central nervous system stimulant fight fatigue and increase energy levels.
Beneficial in weight management, alters fat storage and support gut health
coffee may help protect against certain neurodegenerative disorders, including Alzheimer's disease and Parkinson's disease.
drinking at least four cups of coffee each day helps lower risk of depression.
Non-Fat Cream
great alternative for those who want to enjoy the flavor of coffee without the hassle or health concerns of dairy.
Non-dairy creamer is typically keto friendly.
Stevia
Do not contribute calories or carbohydratesto the diet.
Increase sodium excretion and urine output.